Testimonials: Corporate View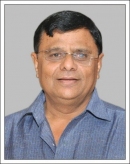 As the president of Vadodara chamber of commerce & industry (vcci) ,i share a special commitment for the trade & industry. I have experienced as a small scale entrepreneur, the ground realities that have witnessed the changes over the last few decades. I have during my days as a student leader also understood the aspirations of the student's community.
Precisely therefore, i initiated setting up a web portal to address the demands of both the students and the industry. The portal titled-vcci4freshers has registered a record number of hits with a sizeable number of students getting placements with different strata of industries.
I had also expressed serious apprehensions for the student community as the number of placements opportunities available are far far less than the number of aspirants. The situation has to be addressed at all costs. I therefore arranged for special placement cells at all the recent VCCI exhibitions which did receive a very encouraging response.
I do believe that much still remains to be done. I hope that the recent call by the hon. Prime minister, Shri Narendrabhai Modi for the mission " stand up India-start up India" to help assist with setting up small ventures for the youth of India will fetch desired level of results
I will be failing in my duty if i do not advise students for a much needed change in their mind set. I have observed that during the various job 'melas' that we organized, the youth were not receptive to joining micro & small enterprises and waiting for fat packages by big & multinational companies. I must confess that all the expertise that i have at my command is purely for having started in a small way. The lure for big names must give way to the desire to gain with work experience with not so big enterprises.
I also take the opportunity to thank the government for letting me contribute with ideas that will redefine the future of the student community.
I convey my best wishes to all of you and wish to reassure that my services will be available for the entire student community all my life.
Wishing all the success for K J Campus and the young budding talents. Hope this placement brochure will help your reputed organization to find the right candidates at the right time.
NILESH SHUKLA
PRESIDENT(VADODARA CHAMBER OF COMMERCE & INDUSTRY)
Today industry demands not employees but entrepreneurs with multitasking capabilities. We at BITA had opportunity to interact with volunteer force provided by KJIT. The enthusiasm, involvement, creativity and curiosity of KJIT students at BITA-IT show was amazing. They found to be highly proactive to the tasks allocated to them. We experienced KJIT is preparing highly industry ready force.
I have served Indian Air force for 17 years. What I have realized that negligible students from Gujarat opt for career in Defense services. Let us realize that it is not duty of others states alone, like Punjab, Rajasthan, U P, Assam etc to defend the boundaries of our Nation. Gujarat should also contribute equally. With modern weapons our Army , Navy & Air force have become very high tech and world class. Careers in armed force are thrilling and highly satisfying as there is spirit of serving nation. With 7th Pay Commission being implemented the salaries and other benefits will be at par with other top class jobs. There is opening for boys and girls of Engineering Science & IT Graduates.
I believe that life is either great adventure or nothing. Success always lays out of your comfort zone. Ship is safe at Harbor but it is not built to at harbor.
We Believe, if you can think, you can.
DINESH PATEL
PRESIDENT(BITA) & POORV SAINIK SEVA PARISHAD

Our HR team visited K.J. campus recently for recruiting engineers BE/Diploma in mechanical engineering. We found the placement cell head and other related faculty very supportive.
Due to their efforts the recruitment process went smoothly. Some of the students really did well and we have finalized a few students.

The relation between academic institutes and profession is very deep and profound. In fact all professional successes begin with Institutional successes. Therefore, it is prudent to know and accept the responsibility of industries towards the academic institutions.
In our pursuit to excellence, we at ASTA could have two bright academician as GET starting their professional journey. Their contribution is sincerely appreciated in our stupendous growth story which have been far above the prevailing industrial standards. We admire their academic exposure and the institute The K J Institute of Technology which has been at the root of it.
I would express our sincere commitment to work with K. J Institute in developing the "Industry Worthy" pool of bright engineers and thereby continue to contribute to the overall society.
Nirmit Jha
Managing Director Asta India Pvt Ltd

"We recently had an opportunity to recruit Project Interns for our Internship Programme for Final Semester Students. The quality of students has been really good as they are quiet well versed with the conceptual technical knowledge as well as with at par communication skills which is a mandatory criteria for MNC Company like us. Also the experience with the institute has been fantastic as the faculty and members of Training & Placement cell of the institute are very helpful and professional.
Hence we would definitely be willing to be associated with KJIT in future for any of our internship and placement programmes."
URVI PAREKH
RECRUITMENT MANAGER, PMC INDIA PVT. LTD.

KJIT is very good institute and has a good infrastructure. It has good no.of systems and labs are well equipped in order to carry the campus-Off campus test.
The TPO of the college MR Abhishek is very kind person and has helped us a lot to carry out the drive in smooth manner.
We look forward to carry a good relation with the college.
CHINMAY PADGAONKAR
RMG - Tech Mahindra

"We wish to place on record that undoubtly we are very much contented with the Engineering graduates we have from the Institute. It is a valuable contribution and excellent character building carried out at the Institute, in their students.
I would express our sincere commitment to work with KJIT in developing 'Industry Worthy' pool of bright Engineers."
Mr.Jignesh Kayastha
Managing Director Steelfur System Pvt Ltd

"We have MOU with KJIT Engg college. We are satisfied with the Engineering Graduates we have from theInstitute. It is a valuable contribution and excellent character building carried out at Institute in their students With the help of MOU with several types of industries and associate them with the students for industrial Skill development."
Rikesh Shah
Director of Navkar Infotronics